Hop Thuy Restaurant – Mai Chau Cuisine welcomes you
Located at the address of sub-zone 2, the center of Mai Chau town, Hoa Binh. Hop Thuy Restaurant (Mai Chau Restaurant) is a long-time branded restaurant in Mai Chau in the beautiful Mai Chau valley.
Location of Hop Thuy restaurant (Mai Chau restaurant)
Hop Thuy restaurant is located in sub-zone 2, Mai Chau town, Hoa Binh province. The restaurant is located right on National Highway 15 on the way from Hanoi towards Lac and Pu Luong villages and famous resorts in Mai Chau such as Mai Chau Ecolodge, Mai Chau Lodge, Avana Retreat, Mai Chau Mountain View, …
Mai Chau restaurant facilities
Parking: Hop Thuy Restaurant (the restaurant in Mai Chau) has an extremely large covered front parking lot with large capacity and convenient location.
Infrastructure: Hop Thuy Mai Chau Restaurant is a restaurant in Mai Chau with a 3-storey structure, a usable area of ​​3000 m2, with the capacity to serve up to 350 customers.
 Floor 1: The Northwest specialty gift shop with a large quantity, variety of designs and features for customers to freely choose to buy gifts.
2nd floor: Mai Chau cuisine restaurant with spacious and airy space.
3rd floor: Gym and children's play area.
Architecture: The restaurant uses a short line of modern frame house architecture, combined with wood materials, bamboo and uses many decorative trees, bringing harmony between nature and man-made. In particular, with the open and airy architectural line and close to nature, the scenery of Mai Chau mountains and forests.
Interior: Hop Thuy Mai Chau restaurant has a V.I.P dining room system and a comfortable, luxurious and large-capacity hall, modern sound system, screen suitable for conferences, parties, birthdays.
Bar: The restaurant in Mai Chau Hop Thuy has a Bar serving Coffee, Tea, Smoothies, Cocktails and an extremely relaxing space for you to check-in and keep memories.
Kitchen space: The kitchen area is the heart of the restaurant in Mai Chau Hop Thuy – delicious and unique dishes formed by the hands of talented chefs. The kitchen area is spacious, clean and especially built according to the shortcut, so that customers can directly see the kitchen in operation – which is the restaurant's extension of hygiene and product safety.
Service: Professional and friendly service style is the goal of the restaurant to always satisfy customers. The restaurant in Mai Chau Hop Thuy boasts professional and friendly staff who always make you satisfied.
Menu: The feature and also the core factor of the restaurant's brand, it is a diverse dining menu, meeting many customer requirements with quality that always has hygiene and safety, food and the most special Mai Chau.
We are proud to be the leading unit in food service in Mai Chau, Hoa Binh.
Please to and experience Mai Chau cuisine in the unique space of the restaurant in Mai Chau Hop Thuy.
---
Contact
Hotline: 0367 562 585 – 0982 493 942
E-Mail (sales contact): drbuivietthanh@gmail.com
Facebook restaurant Mai Chau Hop Thuy: https://www.facebook.com/hopthuymaichau
Google map address: https://g.page/hopthuymaichau?gm
---
History of Hop Thuy restaurant (restaurant in Mai Chau)
Start
Formerly a restaurant in Mai Chau district – under the general trading company of Mai Chau district (now Hoa Binh technology products joint stock company). This restaurant in Mai Chau has been in operation since the early 1990s with a starting staff of only 2 people, specializing in serving breakfast and lunch. This was one of the few delicious restaurants in Mai Chau at that time, a dining address frequented by locals.
After 15 years of operation in the state, around 2004 – 2005. From a Mai Chau restaurant, we separated to operate independently and have grown in scale of operations and business fields. We gradually build a reputation with locals and tourists with the brand name Hop Thuy restaurant in Mai Chau.
Hop Thuy Restaurant is a restaurant in Mai Chau that is famous not only for its delicious food, quality and reasonable prices, but also for its friendly and professional service. Taking the mindset of "sustainable development" as the guideline for the restaurant's operations. The trust of customers is the source of encouragement and the greatest pride for us.
New phase
In early 2019, Lac Mai Chau Hop Thuy village restaurant continued to have a huge transformation when renovating and upgrading modern facilities, with a much larger scale.
This is really a challenge for us when along with the strange expansion and development, the Covid-19 outbreak has greatly affected the restaurant's business. However, with the determination to maintain our reputation and brand development, we have maintained our activities and constantly expanded other business areas.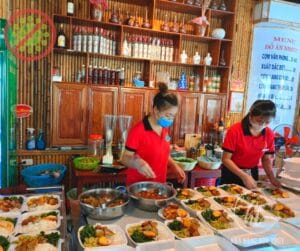 During the epidemic outbreak, we are proud to be a delicious restaurant in Mai Chau providing quality meals for police officers and soldiers; medical staff to prevent epidemics and patients with Covid-19 at isolation facilities of Mai Chau district. We have provided thousands of meals with our dedication.
Hop Thuy Restaurant also actively carries out charity activities such as providing more than 300 free meals to isolated patients in Mai Chau. The restaurant in Mai Chau Hop Thuy has also improved the service process towards customer satisfaction.
"Fire proves gold, adversity proves men" – After more than 3 years since the outbreak of the Covid-19 epidemic, the brand "Hop Thuy Restaurant – Mai Chau Cuisine" is more and more known and trusted by more and more people. It is the result of the continuous efforts of the staff of Hop Thuy restaurant.
Currently, Hop Thuy Restaurant is a specialty restaurant brand in Mai Chau leading the food service industry, specializing in 24/7 catering, coffee – refreshments, Northwest specialties. Over 25 years of operation in the food service industry, Mai Chau Hop Thuy restaurant is proud to bring you the authentic taste of the Northwest mountains of Mai Chau.
---
Searching Key: Restaurant near me, restaurant nearby, mai chau restaurant, restaurant in mai chau